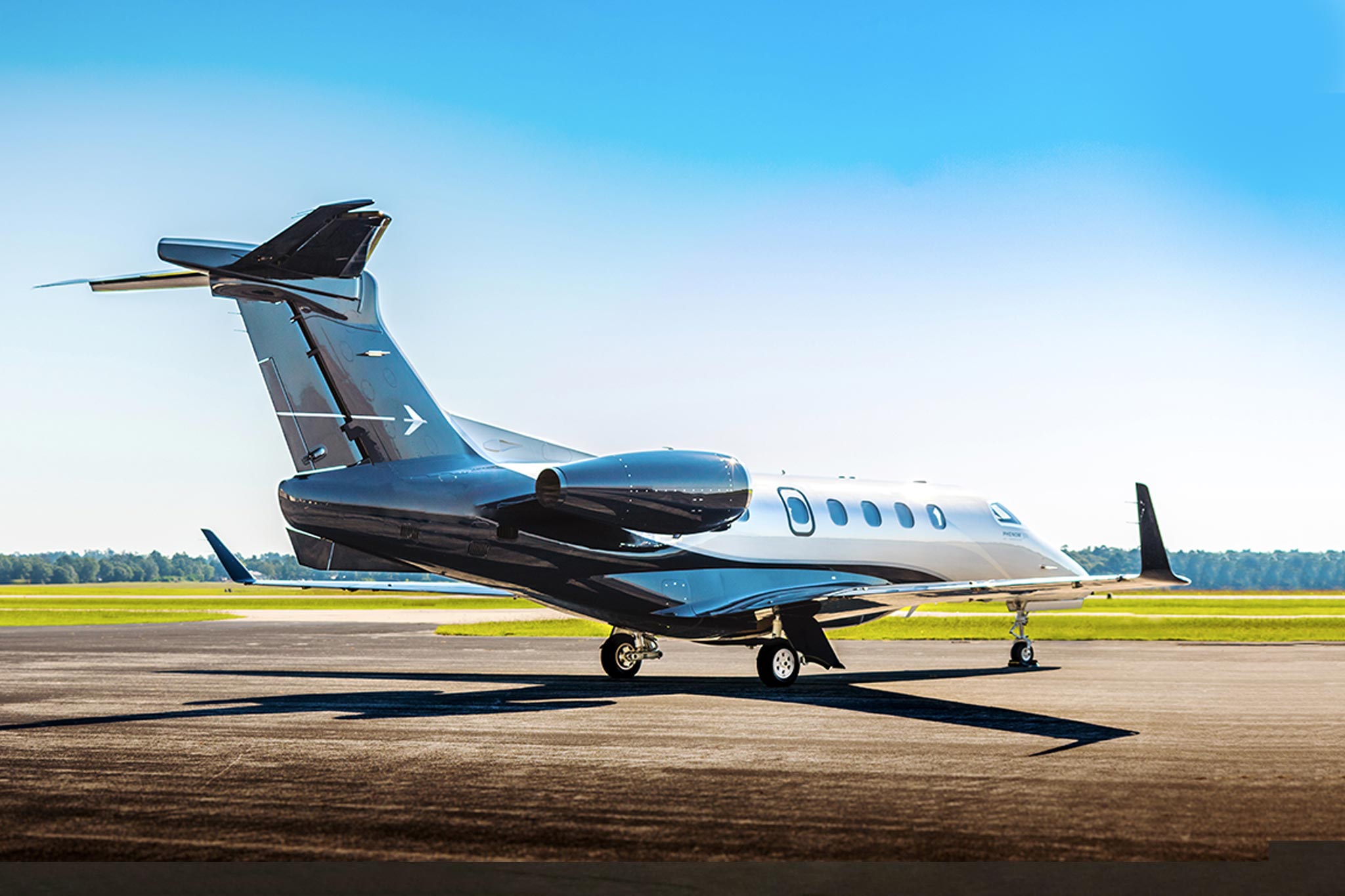 Author
Egan Rzonca, Sales Operations Specialist
When shopping for a Phenom, it can often be intimidating with how many different variations there are within the 100 and 300 lineups, specifically, identifying the differences between each model. Let's explore the history of the Phenom lineup, what makes each model unique, and which might be the right jet for your mission.
Phenom 100
The core Phenom 100 was first flown in 2007 and entered service at the end of 2008 as a 2009 model. Having a range of around 1,100nm and a cruise speed around 400 knots the jet immediately proved popular with operators, with over 100 being delivered in the first year. The performance, combined with Embraer's signature Oval-Lite Cabin, a cabin design that prioritizes height over width that provides a larger cabin feel in smaller cabin aircraft, set this aircraft apart from others being delivered at a tumultuous time in the private jet market. Features that were enjoyed by pilots included a Garmin G1000 based flight deck named Garmin Prodigy and signature "ram horn" yoke design that provides more leg room than a traditional floor mounted yoke. Passengers appreciated a BMW designed interior, large cargo capacity (71 cubic feet), imposing ramp presence which allowed the use of a true airstair door and high reliability due to Embraer's philosophy of building all aircraft (commercial, private, and military) to a commercial aircraft, high use standard. Later in production, a forward side facing seat and a rear belted lavatory were made optional to the standard four passenger single club. In all, almost 300 Phenom 100s were delivered prior to the introduction of the 100E in 2014.
Phenom 100E
In 2013, Embraer announced the upgrade Phenom 100E model, with an introduction into service later that year. The aircraft included a few upgrades over the 100, as well as making some optional equipment on the 100 standard on the E. One of the key differences was the inclusion of upper wing mounted multi-function spoilers that provide the aircraft more versatility on arrival and, while Embraer states it does not affect braking distance, most operators report shorter stopping distances in the 100E vs the 100. The Enhanced Takeoff Package was made standard, which allows for more engine thrust on takeoff only and the maximum zero fuel weight was increased to allow for 330 pounds of extra passenger or baggage weight. Fully swiveling seats were filtered down from the Phenom 300 as an option on the 100E. Other optional extras from the Phenom 100 that were made standard included electronic checklists, Jeppesen electronic charts and Synthetic Vision. 48 Phenom 100Es were delivered prior to its discontinuation in 2017.
Phenom 100EV
The latest and most advanced version, the 100EV, was launched in 2016 with deliveries taking place in early 2017. The EV introduced many large upgrades into the 100 platform, chief of which was the introduction of the Garmin G3000 avionics in the form of Garmin Prodigy Touch, boosting pilot awareness and safety with larger screens, faster computer processing and touch screen interface. Engine thrust was increased from 1,695lbs to 1,730lbs, improving hot and high performance (reducing high altitude takeoff distance by over 1,000ft) and increasing climb performance with a decrease in time to climb to service ceiling (41,000ft) of 25% (25 minutes down from 33 minutes). The EV also inherited the upgraded, larger seats found in the enhanced cabin on late production Phenom 300s. Still in production, there are currently 52 aircraft in operation worldwide.
Phenom 300
The bestselling light jet for the past decade first flew in 2008, with type certification being granted in December 2009 and deliveries commencing in 2010. Like it's smaller sibling, the aircraft was well received by initial operators, boasting a cruise speed of almost 450 knots, service ceiling of 45,000ft, range of 2,000nm and advanced Garmin G1000 avionics. Interior layout options ranged from a six-seat main cabin with an extended forward refreshment center or a seventh rear facing seat in place of the extended refreshment center. The first major change came in 2013 when a forward side facing two place divan was added as an optional interior layout as well as enhanced seats; the two-place divan subsequently became the most popular interior layout option on the 300/300E. In addition to the divan, Garmin G3000 avionics were also made available as in option in 2013 and 2014 before becoming standard in 2015. Production of the Phenom 300 ran through 2017 with 489 aircraft built.
Phenom 300E
In 2016, Embraer unveiled the upgraded variant, the Phenom 300E. Major changes focused on the interior and avionics upgrades, with redesigned seats, upper paneling, inclusion of new Lufthansa Technik inflight entertainment and faster processing for the Garmin G3000 Prodigy Touch cockpit. A feature that made its debut with the E is Ground Power Mode; in Ground Power Mode, the right engine is run at a low idle to provide power to the aircraft and maintain cabin environmental conditions in inclement weather (running the engine in GPM does not add hours to the engine).
The 300E was upgraded in 2020, starting with SN 569 (no specific name change, but known as the "Enhanced" 300E or G12). The biggest change with this update was an increase in engine thrust from 3,360lbs to 3,478lbs, sourced from an update to the FADEC systems and requiring no additional maintenance or shortened time between overhauls. This allows the 300E "Enhanced" to cruise at M0.80, making it the fastest single pilot business jet in the world. A huge leap in safety was provided with the introduction of the Runway Overrun and Awareness Alerting System (ROAAS). ROAAS constantly monitors the jets performance, weight, and position in real time relative to the runway to provide a visual and aural warning for pilots to either use maximum braking upon landing or to execute a go around in the case of an unsafe landing scenario. The Phenom 300E is currently the only business jet that offers this technology. Further backing up safety is an automated descent mode that will descend the aircraft to a lower and safe altitude should the cabin depressurize. Among these changes, these aircraft also benefit from new and more effective sound deadening to reduce high pitched engine noise, redesign of three valves underneath the cabin floorboards to reduce loud noises emanating from each, slightly more fuel volume to extend the range to 2,100nm and GoGo AVANCE L5 available as an optional extra. There are currently 82 "Enhanced" Phenom 300Es in operation and growing every day.