jetAVIVA Expands Into Utility Turboprop Markets with Addition of New Sales Director, Tom Dafoe
Organization continues growth with addition of critical Transaction and Sales Support roles.
February 12, 2021 – Kansas City, Kansas – jetAVIVA announces the expansion of its sales team with the addition of Thomas Dafoe, Sales Director and specialist in the Utility Turboprop markets.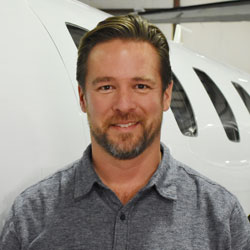 "We are pleased to welcome Tom to the team and excited to leverage his expertise as we branch out into a new market segment," said company COO, Emily Deaton. "Tom is able to provide an incredibly high level of service, and educate and inform clients based on his real-world experience over the past 20+ years in the industry."
Dafoe joins jetAVIVA after a 22 year tenure at Textron. After earning his A&P certificate and pilots license, Dafoe joined then-Cessna Aircraft Co. as a CSR before ultimately leading a Cessna Service Center as General Manager of the Sacramento Facility. He then transitioned to the sales organization, where he directed sales for the Western-half of the US and Canada in the highly-sought-after Cessna Grand Caravan product line.
The support team at jetAVIVA also continues to grow with the addition of Brittany Kelso, Senior Manager of Transactions and Laura Meyer, Sales Operations Specialist. Kelso was instrumental in closing out the busiest fourth quarter in company history. Meyer joins the team from Embraer Executive Jets. She will track markets and support company sales efforts in the critical Citation Mustang, M2, CJ3 and CJ3+ markets.
Deaton finished by saying, "Brittany and Laura are an integral part to ensuring the sustained growth of our firm while maintaining the world-class client support and customer experience for which jetAVIVA is known."