jetAVIVA Develops a New Team Dedicated to Market Analysis and Customer Outreach
Newly-appointed Sales Advisors will support the firm's growing sales team
Kansas City, Kansas – jetAVIVA, a worldwide turbine aircraft sales and acquisitions specialist, has invested in developing a dedicated team to analyze market trends and activities while increasing client outreach efforts. Adding four (4) new roles to the company, the firm's new Sales Advisors will track jetAVIVA-identified core markets and collect market data to support the sales generated by the growing team of twelve Sales Directors across the U.S., Canada, and Mexico. This team expansion announcement is made on the heels of jetAVIVA's announced Senior Leadership Team growth, adding new VP of Sales, Emily Deaton, who was previously with Embraer Executive Jets.
Indications are clear from jetAVIVA's leadership that they are focusing heavily on team development and structure to ensure the firm's current and forecasted growth does not dilute the quality of personalized service offered to its clients.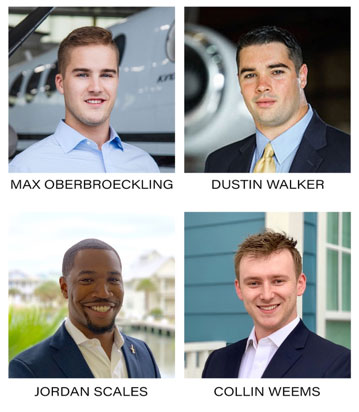 jetAVIVA CEO, Tim White, explained, "With so much activity in the business aviation markets, it is impossible for one [sales]person to do it all with maximum effectiveness for the client base. With the support from our newly-appointed Sales Advisors, we now have the ability to capture and analyze data with levels of both quality and quantity that I feel are unmatched in this industry. Accurate data is indeed paramount to the timeliness of a sale, but it also provides our customers with a high level of confidence that the aircraft they are buying or selling is at optimal value in the marketplace."
The four new Sales Advisors for the firm are Max Oberbroeckling, Dustin Walker, Jordan Scales, and Collin Weems. Each will have dedicated markets to follow, allowing them individually to become experts of their respective markets. As one of the Sales Advisors' first large projects, jetAVIVA has expanded the number of markets covered in the firm's Monthly Market Updates, which cover up-to-date market values and trends.
Adding to future company growth, jetAVIVA is also actively recruiting and hiring new Sales Directors.
About jetAVIVA: Founded in 2006, jetAVIVA has been a pioneer in helping Clients enter the world of turbine aircraft ownership. With over 2,000 clients in 40 countries, jetAVIVA is one of the largest resellers of turbine aircraft in the world by total units sold. The firm is headquartered in Kansas City, Kansas, with offices in California, Colorado, Georgia, Massachusetts, New York, Texas, Rhode Island, Wisconsin, Canada, and Mexico.
Any questions or requests for comment can be directed to [email protected]