jetAVIVA Sales Team Grows with addition of Industry Veteran Denise Wilson
Wilson to serve the firm's client communities with a focus on the Cessna Citation markets.
July 22, 2019 – Kansas City, Kansas – jetAVIVA, a worldwide leader in turbine aircraft sales and acquisitions, announced today the addition of Ms. Denise Wilson to the team as the Sales Director for Citation CJ, CJ1, CJ1+, and M2 markets. Wilson is an active jet pilot and business aviation entrepreneur, having previously founded the highly successful company, Desert Jet, a group of aircraft management, charter, maintenance, FBO, and aircraft handling companies based in Thermal, California.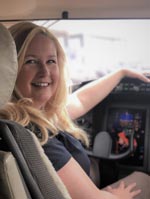 As an accomplished aviator with over 9,000 hours of logged time and eight type ratings, Wilson brings with her an immense library of knowledge in operating and owning light and midsize jets. "It's a natural fit connecting Denise's breadth of aircraft operational expertise with jetAVIVA's long history in transitioning aircraft owners to turbine aircraft ownership", said jetAVIVA CEO, Tim White. Being a current, type-rated pilot in the Citation aircraft she will be selling and acquiring for clients means Wilson is able to provide an incredibly high level of service, able to educate and inform clients based on her real-world experience over the past 20+ years in the industry. White continued, "Denise's unique background will further allow jetAVIVA to serve its client base across all product sectors, well into traditional corporate flight department aircraft."
"I have watched with admiration as jetAVIVA has been built into the premier aircraft sales company in the nation over the past decade. I'm honored to now be a part of the team and I look forward to being a major contributor to this ever-growing, fun, and inspiring company", said Wilson.
The cockpit is where Wilson started her aviation career, but she turned that into a successful run building a full-service aviation company. Wilson founded Desert Jet in 2007 as an aircraft management company, added charter operations in 2009 and Part 145 maintenance services in 2013. Wilson led the company as CEO to rank as high as number 69 on the Inc. 500 list of the nation's fastest growing, privately owned companies. As of early July 2019, Wilson transitioned out of the CEO role to become Chairman of Desert Jet Holdings, the parent company of Desert Jet's operating companies.
White finished in saying, "Having Denise now on our team is an incredible honor, but more importantly, her presence will be hugely impactful in continuing jetAVIVA's principles of delivering bold, fun, and personal experiences to inspire our community of aviators.