Top Destinations to Take Your Plane This Summer
For those of us on the north half of our Globe, the Summer months are upon us. School's out, lawns are green, and the smell of jet fuel is in the air.
Here at jetAVIVA, we're all aviators at heart and love airplanes for the magnificent modern marvels they are. Just as great as the planes themselves, though, are the places they can take you.
Whether you're an aircraft owner, pilot, or just love travel and adventure, these top Summer destinations chosen by jetAVIVA Team Members are sure to make your Summer memorable one.
MACKINAC ISLAND, MICHIGAN, USA
Chosen by Jade Hofeldt, Sales Director for Citation Mustang Markets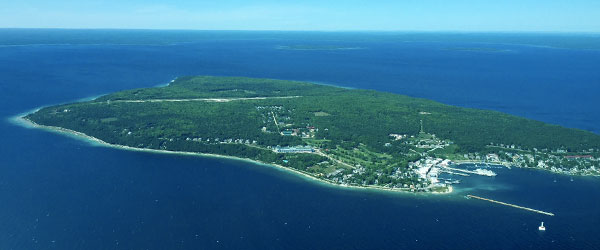 Airport: Mackinac Island Airport (ID: KMCD)
General Airport Information: Located just south of the Canadian border in Lake Huron, at the eastern end of the Straits of Mackinac, between the state's Upper and Lower Peninsulas. The island covers 3.8 square miles. There are GPS instrument approaches, but no FBO services on the field. Pellston Regional Airport (KPLN) is just 19NM to the south and they have full services and a 5,401 ft runway.
Main Runway: 8/26; 3,501 ft long by 75 ft wide, elevation 728 ft
It is a great time to visit Mackinac right now as it's a Seasonal Island, and the weather is perfect for biking, hiking, swimming, or just relaxing! It is home to roughly 500 year round residents, and as many as 15,000 tourists per day during the peak season.
The island was home to an Odawa settlement before European exploration began in the 17th century. It served a strategic position as a center on the commerce of the Great Lakes fur trade. This led to the establishment of Fort Mackinac on the island by the British during the American Revolutionary War. It was the site of two battles during the War of 1812
Motorized vehicles have been prohibited on the island since 1898. Travel on the island is either by foot, bicycle, or horse-drawn carriage.  M-185 is the United States' only state highway without motorized vehicles and it makes an 8-mile circular loop around the island, closely hugging the shoreline, perfect for an easy bike ride. Bikes are easily rented on the island, so no need to pack your own.  The island can be reached by private boat, by ferry, by small aircraft, and in the winter, by snowmobile over an ice bridge.
We asked Jade, "Can a Citation Mustang land here?". Here's her tip:
Yes, you can land at MCD in the Mustang, and if you are "on your numbers" you will be able to land at Max Landing Weight in less than 2,600 ft. Obviously, set your own personal minimums, and remember there are no services at the airport, so PLN airport is a great alternative, and you can just hop on the ferry to the island.
TORTOLA, BRITISH VIRGIN ISLANDS
Chosen by Mike Hogan, Sales Director for Beechcraft King Air Markets
Airport: Terrance B. Lettsome International Airport (ID: TUPJ)
General Airport Information: Located on the East end of the island. There are no instrument approaches. Plenty of FBO services and fuel. Some terrain to be cautious of, and water and beaches on both the approach and departure ends of the runways.
Main Runway: 7/25; 4,645 ft long by 98 ft wide; elevation 16 ft MSL
Tortola has warm, tropical weather year-round. For diving and snorkeling, the visibility is best in the spring (Mar–May) and winter (Nov–Feb). Other popular events in Tortola are the BVI Spring Regatta (Mar–Apr), with yacht races and live music, and the BVI Emancipation Festival (Jul–Aug & Dec), known for its lively street parades.
Our top suggestion for the island is to rent a Crewed Sailboat from the Moorings and spend a week touring all of the local islands.
We asked Mike, "Can a King Air land here?". Here's his tip:
Absolutely a King Air can land here, no problem. I've flown a King Air 200 and a Citation Mustang to "Beef Island Airport", now called Terrance B. Lettsome International Airport (IATA: EIS, ICAO: TUPJ). One suggestion is to make sure your TAWS is working and displayed when flying in at night.  There is terrain to your left when you are landing to the east and there are not a lot of lights on the hill. See the picture.

The FBO is very helpful clearing customs and there is a hotel (Beef island Guest House), with a nice restaurant very close to the airport for pilots that need to spend the night and fly home the next day.  
ALPINE, WYOMING, USA
Chosen by Dustin Cordier, Sales Director for Embraer Aircraft Markets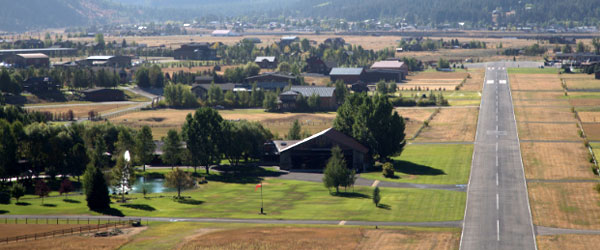 Airport: Alpine Airpark (ID: 46U)
General Airport Information: Located at the southern end of the Palisades Reservoir right at the Idaho/Wyoming border, less than 2 miles northwest of Alpine, WY. Mountainous terrain on all sides of the Reservoir makes for a beautiful VFR approach to Runway 13. Jet-A and 100LL fuel readily available.
Main Runway: 13/31; 5,827 ft long by 50 ft wide; elevation 5,637 ft MSL.
While in Alpine, be sure to check out the Refuge Air Ranch development at the Alpine Airpark. This happens to be one of jetAVIVA's favorite places to connect with like-minded aviators, professionals, friends, and other sources of inspiration; all while having a lot of fun. The Refuge is a profoundly unique residential development in the majestic Star Valley region near Jackson Hole; a new gem in the heart of the American West. The gated community has taxiway access to the most spectacular and user-friendly airport in the world. And the surroundings offer year round recreation in multiple dimensions every changing season.
Alpine provides visitors with a small town atmosphere and an abundance of activities for every season. Enjoy easy access to miles and miles of wilderness and outdoor recreation.  Popular activities include boating on the Palisades Reservoir, kayaking or rafting down the Snake River Canyon, backcountry flying, hunting, hiking, trap shooting, fly-fishing, horseback riding, skiing, and snowmobiling.
We asked Dustin, "Can a Phenom 300 land here?". Here's his tip:
The Phenom 300 is well suited for 46U.  One should always exercise caution when performance planning, but the Phenom 300 is very agile for a big "little" jet. Many don't realize that it's performance in the high altitude regime is on par with aircraft half its weight.  
PORT ARANSAS, TEXAS, USA
Chosen by Robin Eissler, Sales Director for Citation Sovereign Market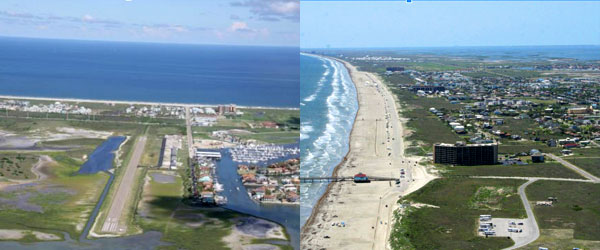 Airport: Mustang Beach Airport (ID: KRAS)
General Airport Information: Located on the northern end of Mustang Island, about 2 miles southwest of Port Aransas. GPS instrument approaches available but it's an uncontrolled field. 100LL is the only fuel available, but you can get Jet-A from Corpus Christi Airport KCRP, which is 22NM to the west and has a 7,500 ft runway.
Main Runway: 12/30; 3,482 ft long by 70 ft wide; elevation 5 ft MSL.
Port Aransas on Mustang Island (known colloquially as "Port A") is a vacation favorite for all age groups with its nearly 20 miles of shoreline and wide, soft-sand beaches. Port A is a quaint fishing town on the northern tip of Mustang Island along the Texas coast. It's a community still recovering after being hit by Hurricane Harvey in 2017, but the town is well and booming back to life.
This gulf-coast destination offers year-round outdoor activities. To name a few: sport fishing, parasailing, birding, dolphin watching, kayaking, and the only seaside links-style golf course in Texas. Take a rented golf cart through town to explore the shops and galleries, and enjoy a wide array of restaurants, from "cook your catch" fine dining to roadside taco stands.
We asked Robin, "Can a Citation Sovereign land here?". Here's her tip:
A Sovereign would not be a good fit for Mustang Beach Airport.  It could land at nearby Rockport or Corpus Christi airports, which are both about 30 minutes from Port Aransas on the ground.

A Meridian, King Air or CJ would be a better fit for the Port Aransas airport.
FINGER LAKES REGION, NEW YORK, USA
Chosen by Ben Dow, Sales Director for Citation X Markets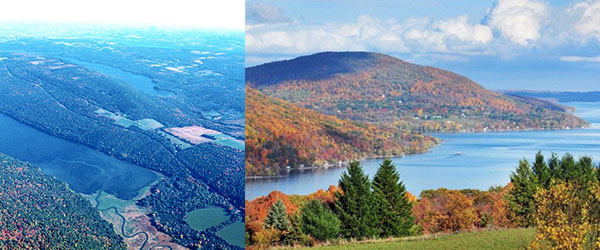 Airport: Ithaca Tompkins Regional Airport (ID: KITH)
General Airport Information: Ithaca Regional is one of the best options for private aircraft of all sizes and provides good access to the entire Finger Lakes region. ITH is situated near the southern tip of Cayuga Lake, one of the largest lakes in the region. A handful of instrument approaches, and FBO services aplenty. Penn Yan Airport (KPEO), about 30NM to the northwest of ITH, is another good option, but is a smaller airport compared to ITH, and is an uncontrolled field whereas ITH is Class D.
Main Runway: 14/32; 6,977 ft long by 150 ft wide; elevation 1,099 ft MSL
The Finger Lakes is a region of New York State. It's named for its series of long, thin lakes, and known for its vineyards and jaw-dropping scenery. Why go now? Long, Summer days with average high temperatures around 80 degrees F, and comfortably cool nights around 60F.
Finger Lakes Wine Country is more than wine; the region is great for adventure seekers. Bring the entire family to enjoy week of camping, canoeing or kayaking. There are many scenic roads for a day of biking, and the lakes are perfect for swimming and boating. You could also board a plane for an aerial tour of the area or take a glider ride at Harris Hill for a view from the sky.
We asked Ben, "Can a Citation X land here?". Here's his tip:
Penn Yan is marginal (conditions permitting) for a X. Ithaca is really the best and the most central location to access all the wine trails, great hiking, camping and lakes in Central New York.  Taughannock Aviation at KITH is a full service FBO based on the field.
CAT ISLAND, BAHAMAS
Chosen by Tim White, President of jetAVIVA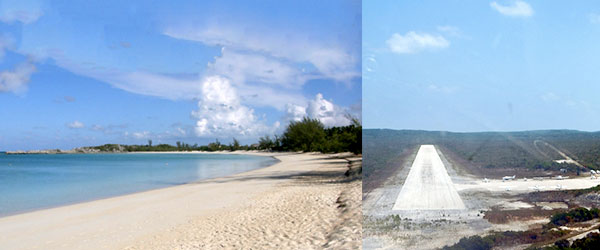 Airport: New Bight International Airport (ID: MYCB)
General Airport Information: Located on the western coast of Cat Island in the Bahamas, offering unforgettable Caribbean views on approach and departure. Customs services on the field, but no other FBO services available. Governers Harbour is about 75NM to the northwest and has full FBO services, including Jet-A and 100LL fuel, and is good for flight planning to/from New Bight if you require fuel.
Main Runway: 9/27; 4,980 ft long by 100 ft wide; elevation 13 ft MSL.
Pristine is the perfect word to describe Cat Island. From the weather to the water to the "Corona Commercial" like beaches, every inch of this island is breathtaking. The untouched landscape is perfect for those looking to explore the island's natural beauty, while the laid-back environment provides a unique destination for relaxing and unwinding. With 50 miles of rolling hills, endless nature trails, the eight-mile Pink Sand Beach, open air tiki "honor bar", plenty of pilot talk, and amazing people, Cat Island visitors can choose to do everything or absolutely nothing at all.
Many visitors describe the island as untainted and unspoiled. There is much to be discovered on Cat Island. Named after the infamous pirate, Arthur Catt, the island runs deep with history and culture. The 150 square miles of natural landscape offer every traveler a rich Bahamian experience. The island is also home to one of the best climates in The Bahamas. Its location near the Tropic of Cancer means temperatures range from the mid-60s in the short winters to the high-80s in the summer, which make it perfect for getting out and exploring Cat Island.
We asked Tim, "Can a Citation M2 or CJ3 land here?". Here's his tip:
A Citation M2, CJ3, or any 525-series Citation could easily access this tropical paradise via New Bight Airport MYCB. On-shore prevailing winds are generally blowing from the east straight down this east/west 4,980'  x 100' well-paved uncontrolled runway. Customs is on the field for super-easy entry into the Bahamas. There is no fuel available on the field, so be mindful prior to your arrival for flight planning your return to the US. There is parking room available to accommodate any 525 series Citation, but you'll need be mindful of your positioning when taxiing in as there is not an FBO with tug support. MYCB is a quick 5 minute taxi ride – there is no waiting at the terminal – to Fernandez Village Bay Resort. You will not be disappointed!