Who am I to turn down an opportunity to fly a Cessna Caravan?
When Hal Chrisman, President at Raisbeck Engineering, offered the chance to fly their experimental Cessna 208B to evaluate and give feedback on their newly designed STC, I cleared my Friday morning to meet up with lead engineer Blaine Whotcomb, test pilot Ken, and N208PG at Jet Aviation in Scottsdale.
Late October mornings in Scottsdale, AZ bring perfect flying conditions. With calm wind, blue skies, and cool temps, the colorful desert mountains surrounding the Valley of the Sun beckoned us to explore the skies. N208PG is a freight dog. Exactly what you would expect: high time, paint is a bit rough, a little dirty on the belly, a legacy 2002 vintage Grand Caravan without the frills and bells and whistles you would expect to find on a late model Caravan with Garmin avionics and TKS anti-ice. The question for today was this: could an old freighter with the original 675 horsepower PT6A-114A pick up some speed with Raisbeck's touch on the plane?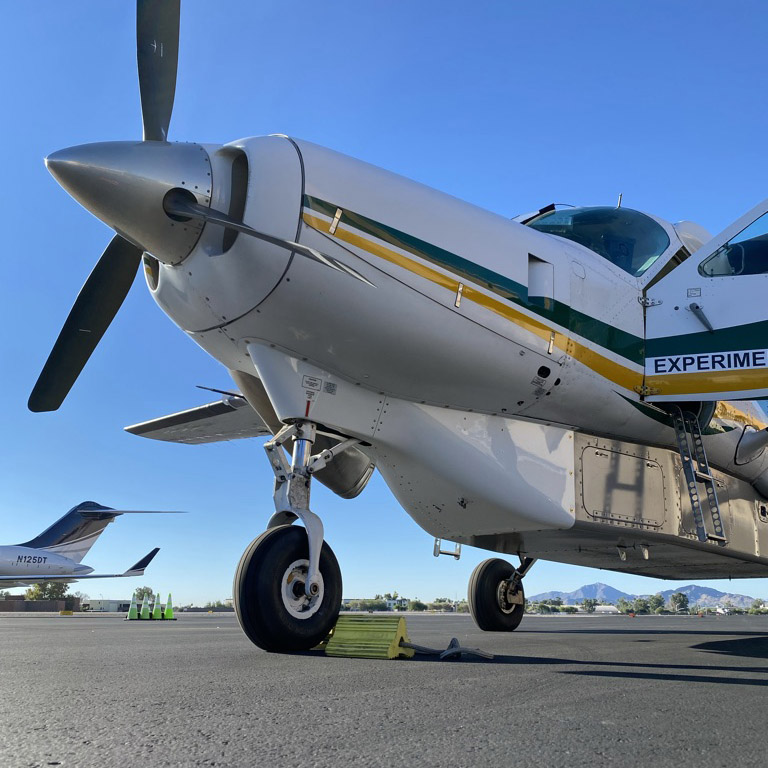 The late James Raisbeck and his team of engineers are known worldwide for having developed modifications that enhanced both the performance as well as functionality of the Beechcraft King Air line of aircraft. Now having turned their eyes to the Cessna Caravan, a plane that was never built for speed, rather for utility, they saw an opportunity to dial it up a notch, or at least to bring some fuel economy to the workhorse. They've focused on three areas, broken into two separate Supplemental Type Certificates (STCs). The first, which is now submitted to the FAA for review, is the Epic Package, and consists of a speed fairing that blends the nose landing gear fairing into the cargo pod as well as aft body strakes. The second, still in final development, adds main landing gear wheel pants.
For the purpose of this flight, I was only able to fly with the forward fairing and aft body strakes. To my surprise, the fit and finish of the forward fairing had a pleasant look, as though it belonged there and should have been part of Cessna's original design. While this experimental example wasn't the prettiest, I can easily imagine the installation slightly more refined, with matching paint and clean edges blending the lower lines of these oversized high-winged Cessnas into a visually attractive extension of the fuselage. The aft body strakes are understated, simple devices that Raisbeck expects will provide both enhanced lateral stability as well as some speed due to the aerodynamic effect of guiding the air along the aft belly and reducing turbulent flow.
Scottsdale tower inquired about what type of aircraft is "Experimental 208 Papa Golf?" "We're a Caravan" seemed to satisfy their curiosity. With a southbound takeoff roll and right turnout to the north for VFR airwork, I pointed toward Payson and climbed to 6000 feet. The plane behaved just as I expected and as we stabilized in cruise, I set it up with prop reduced to 1750 and torque to 1630, our intent was to set the power to a book setting and compare actual True Airspeed to the book value in Cessna's charts. With Ken and Blaine recording data, I focused on keeping the plane as stable as possible; the task proved easy as the air was stable and the strakes were already beginning to demonstrate the improvement in lateral stability – no autopilot was used for the entire flight! We recorded an airspeed of 166 KTAS, 4 knots above the book value. Next, I slowly reduced torque to achieve the expected speed. Here is where the improvements really began to show: a reduction of 29 PPH, 25 EGT, and 205 foot-pounds of torque below book values to fly book speed. Not too shabby!
Having flown up the Verde River Canyon, I then turned right to the southeast toward Roosevelt Reservoir while climbing to 8000 feet. We repeated the same two checks, ensuring the plane was completely stabilized before recording data and realized even more impressive results. At book torque, we were flying 10 knots above book speed; and after reducing power to achieve book speed, saw a reduction of 48 PPH, 50*F EGT, at a torque setting 200 foot-pounds below the charted numbers. In all this flying, I never experienced a tail wag or oscillation, and with a mild wind from the south blowing over the Four Peaks Mountain range providing us with some mild mountain wave turbulence, the plane continued to fly straight and stable.
So what does this all mean? The reality of Caravan operations is a typical short leg, where a few knots of airspeed does not make a noteworthy change in block times. Where this improvement really hits home is the reduced fuel burns and reduced temps in the engine. Can Raisbeck monetize the savings at Hot Section Inspection or Overhaul for a 30-35* average temp reduction? Perhaps not; but we all know that a reduction in temperature and torque for a given airspeed is saving health and longevity on those PT6 powerplants.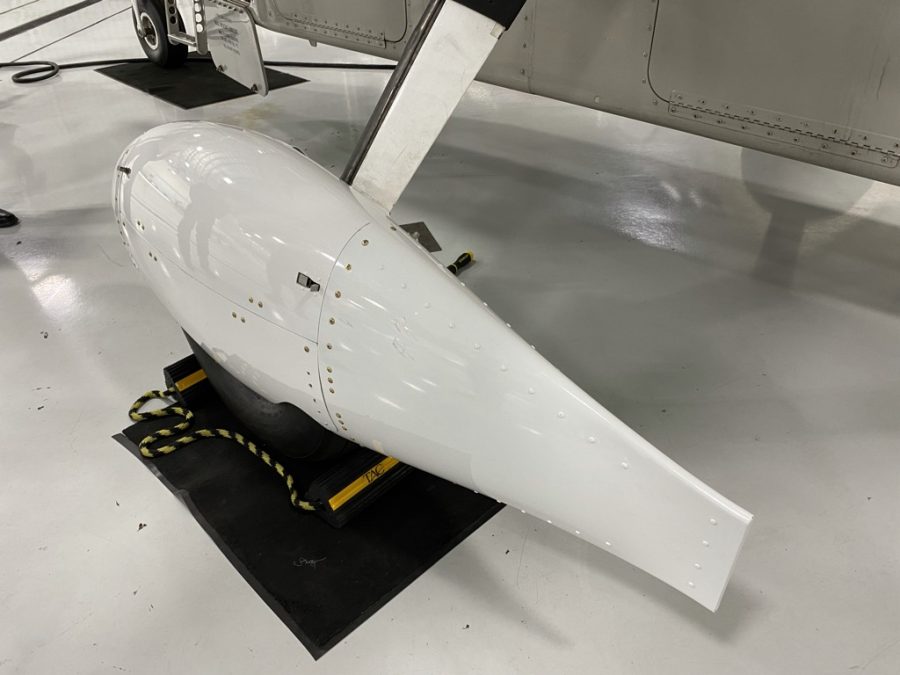 Raisbeck's engineers are projecting an additional 5-10 KTAS increase from the wheel pants. While they change the look of the Caravan, if you're operating from pavement to pavement, the speed increase will be noticeable with all three modifications. For those operating into gravel or other unimproved airstrips and using the Aero Twin gravel guards, the wheel pants won't be compatible. However, the nose fairing and strakes should be a great compliment.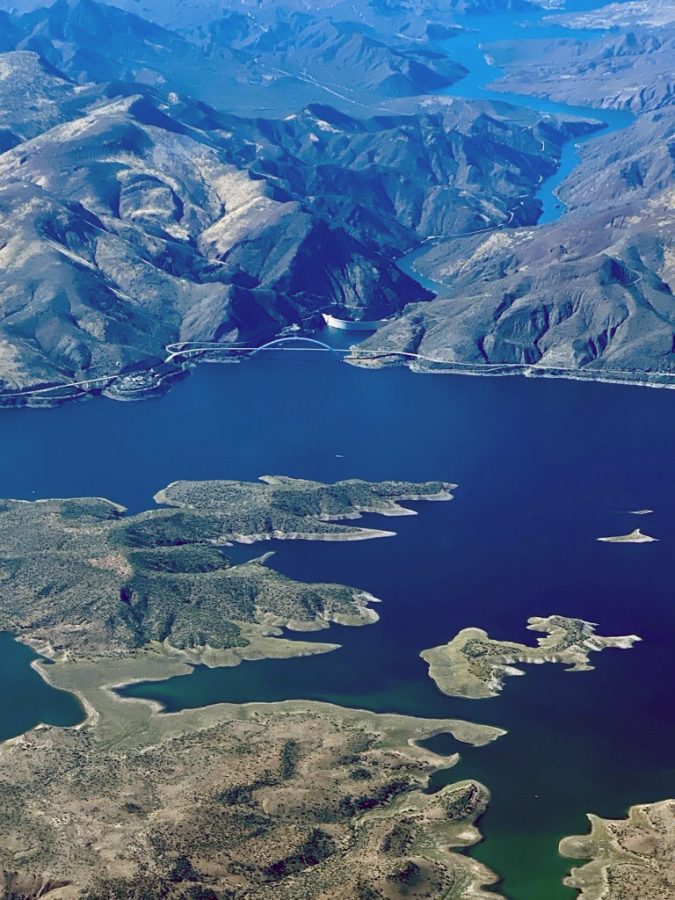 My flying day with Blaine and Ken finished up with a beautiful, scenic visual flight over Roosevelt and down the Salt River canyon, back into Scottsdale where we were enthusiastically greeted by the team at Jet Aviation. I look forward to seeing actual data on the wheel pants, and for operators to begin seeing the savings associated with speed and fuel burn improvements.