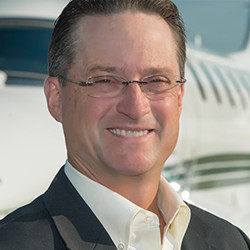 Tim White,
Vice Chairman
Among the greatest benefits of owning a general aviation aircraft is the freedom, flexibility, and privacy it provides. It also opens up a world of unique destinations, many far off the beaten path but easily accessible by private aircraft.
In addition to being aviation market experts, many of jetAVIVA's team are active pilots who enjoy flying as much as their clients do. So, we assembled a list of a few of the "bucket list" general aviation destinations in North America.
Great Exuma, Bahamas (MYEF)
While there are dozens of great destinations for GA aircraft in the Bahamas, the combination of a great airport experience, abundant resort and rental home accommodations and the gorgeous Caribbean water makes this one of the best. Exuma International Airport in George Town is a designated international point of entry, so you can fly there direct from the United States. The paved 7,000-foot runway and the efficient and professional service from Odyssey Aviation FBO makes arrival and departure easy as a warm Caribbean breeze.
Sedona, AZ (KSEZ)
Getting there is half the fun! Sedona Airport sits atop a mesa and has the nickname of the USS Sedona. The field elevation is 4,830 feet and it is a non-towered airport with a downsloping runway. Once your aircraft is secured, grab your hiking boots and hit up some of the national monuments, canyons and 400+ trails around the area. The town boasts first-class resort accommodations, great cuisine, and some great wineries produced in the Verde Valley.
Amelia Island, FL (KFHB)
Each March Amelia Island hosts the Concours d'Elegance, a premier automotive event that attracts a dazzling array of luxury and classic cars. The Fernandina Beach Municipal Airport (KFHB) is located on Amelia Island, a secluded North Florida barrier island featuring quiet beauty and 13 miles of pristine beaches.
Only minutes away from the nearby Ritz-Carlton luxury resort, the airport features a unique FBO terminal was designed in the shape of a F4U Corsair in honor of the WWII pilots who flew the "gull wing bird" from the airport, which previously served as a Navy outlying forward field.
Ocean Reef Club, FL (KORC)
The private Ocean Reef Club is located on a peninsula on the northern edge of Key Largo and has its own private airport with its 4,451-foot runway. Since it is a private, you must have permission to land there as a guest of a member or as a Club member. Ocean Reef offers different levels of membership from its equity level for property owners to a social one in which people from outside the area can access the club and its facilities on a limited basis.
Telluride, CO (KTEX)
Surrounded by majestic peaks, Telluride Regional Airport has the honor of being the highest elevation airport at 9,000 feet. In addition to the terrain and weather, Telluride has the reputation of being a challenging airport to land because of what pilots called "The Dip." Basically, because of the shape of the mesa where it is built, the two ends of the runway were higher than the middle. The payoff is a unique Western town and a world-class ski resort nestled in a box canyon.
Mackinac Island, MI (KMCD)
This destination is perfectly suited for general aviation as there are no cars on Mackinac Island. After landing on the waterfront 3,500-foot runway, you can take a horse-drawn carriage to the historic Grand Hotel. Play a round of golf, sample some fudge, take a bike ride around the island, or simply take in the views of the Straits of Mackinac from the world's longest porch. There is no fuel or FBO services on the island, and as an alternative, you can fly into Pellston Regional.
Lajitas, TX (T89)
Tucked away in Texas' historic Big Bend between Big Bend National Park and Big Bend State Park lies Lajitas Resort, the perfect setting for your away-from-it-all adventure. The resort features a world-class 18-hole golf course, as well as a long list of outdoors activities such as horseback riding, sporting clays, zipline, mountain biking and Subaru Crosstrek rentals. The resort has a private airport featuring a 6,500-foot runway, JetA and 100LL fuels, and plenty of ramp space.
Oshkosh, WI (KOSH)
No list of aviation destinations is complete without mentioning AirVenture Oshkosh. Originally created by the Experimental Aircraft Association in 1953, the last week of July Wittman Regional Airport transforms into the world's largest airshow and becomes the busiest airport in the world with more takeoffs and landings than even Chicago O'Hare.
Other places in North America to consider are Anacortes, WA which with its ferry terminal is a gateway to the San Juan Islands of the Pacific Northwest and Victoria, British Columbia, Canada. And while thinking about Canada, Lake Louise and Banff Alberta in the majestic Canadian Rocky Mountains are only a two-hour drive from Calgary International Airport which offers a plethora of services.
What's on your "bucket list" of destinations? Send us your top picks, and while you're at it, send along a photo of your favorite trip.
Happy adventuring and happy aviating!