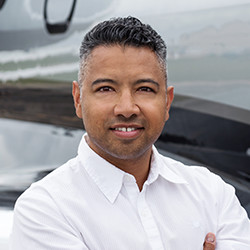 jetAVIVA is pleased to announce the promotion of Mr. Rene Changtin to Vice President, Latin America and Learjet Markets. Mr. Changtin holds a Bachelor's degree in Mechanical Engineering with Aerospace Specialization and has nearly 20 years of experience in the aviation industry, having held positions with Eclipse Aviation, Diamond Aircraft, and most recently, Bombardier Aerospace.
During Rene's 15-year tenure at Bombardier, he served in positions with increasing responsibility in Flight Sciences, Flight Testing, Sales Support, and Program Management, all of which allowed him to become an expert in the business aviation market. Rene has supported Latin American and worldwide business jet sales for Bombardier's vast portfolio of Learjet, Challenger, and Global aircraft, and he played a key role in the sale and entry-into-service of NetJets' order of Challenger aircraft.
Rene will be responsible for jetAVIVA's business development in the Latin American market, and will continue to strengthen our firm's brokerage and acquisition services of Learjet aircraft. Please contact Rene directly to learn what he and the jetAVIVA Team can do to serve you.