jetAVIVA: Behind the Scenes
Technical Services: Rick Silvia
When buying or selling a turbine aircraft, the Pre-purchase Inspection (PPI) can sway your realized cost of the transaction tens to hundreds of thousands, even millions of dollars. This is precisely why jetAVIVA offers comprehensive PPI Management for our brokerage and acquisition clients at no additional cost.
Rick Sylvia, jetAVIVA's Director of Technical Services, is at the core of this service, and helps every one of our clients coordinate and manage the PPI process of the purchase or sale of an aircraft. Sylvia's professional background and tenure in aircraft maintenance and operations proves he's a great ally to have in your corner.
20 Years as the Director of Maintenance for Textron Aviation
9 Years as Director of Maintenance for CVS Health
5 Years as Aviation Director for CVS Health
15+ Years in the MSG3 Industry Steering Committee for New Model Cessna Aircraft and is currently Chairman, Citation Sovereign
22 Years on the NBAA Technical Committee for Cessna Citation Large Cabin Aircraft
Degree in Aviation Maintenance from Embry Riddle Aeronautical University
---
Transactions: John Farrish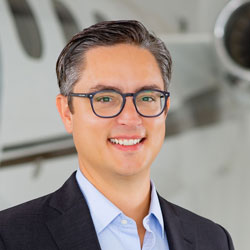 Learn about our General Counsel, John Farrish.
As a company Vice President, John oversees the entire transaction process for each one of our clients. He combines years of legal expertise, a passion for aviation, and an unsurpassed ability to mediate difficult deal dynamics, and is an essential component in the company's successes.
John is a regular featured speaker and panelist for Corporate Jet Investor Events, and was also recently elected to serve a three-year term on the board of the Georgia Business Aviation Association.
Prior to joining jetAVIVA, he was a partner at a national law firm where he represented small business owners and Fortune 500 companies in civil litigation in various state and federal courts. John is the embodiment of one of our core values: "Be Shockingly Good."
Every client of jetAVIVA receives the full benefit of John's legal experience and expertise. John welcomes the opportunity to work with our client's existing legal team, or our clients can elect to have jetAVIVA handle the entire contracting process on their behalf.
---
Sales: Kandi Spangler
Amongst a team of strong personalities and varied interests, Kandi is a stand out. She is a competitive motorcycle rider, passionate aviatrix, accomplished writer, and data junkie. She was at one time the marketing agent for famed aviator, Bob Hoover, served as the chairman of the Colorado Aviation Business Association, and was one of two U.S. women who qualified for the BMW GS Trophy in 2019. In her spare time, she fosters labrador retrievers and teaches others how to ride motorcycles.
But don't let that list fool you...Kandi's number one priority is her relationship with her clients and colleagues. She takes pride in her knowledge of her markets, and uses a data-driven approach to deliver for her customers on every transaction. She will passionately go the extra mile for those she represents, and her repeat clients are testament to a great customer experience.
This Embry-Riddle alum is our specialist in the Citation XL series, Sovereign and Latitude markets...and she knows her way around the Honda Jet.
---
Sales: Jason Deifik
As a former collegiate soccer player, Jason Deifik has what it takes to work hard and win for his clients. His remarkable ability to overcome challenging deal circumstances while maintaining a positive outlook are tremendous assets to our company and our customers.
Jason has worked for over 7 years in the general aviation industry, specializing in sales and market analytics. He has a detailed understanding of market drivers and industry relationships that allow him to identify opportunities and deliver highly personalized experiences for those he serves.
This Texas-native, father and family man is our market specialist in the Pilatus PC-12 and PC-24 markets, and the Citation CJ2 and CJ2+ markets. See below for some of Jason's recent successes.